HOW TO GET AWAY WITH MURDER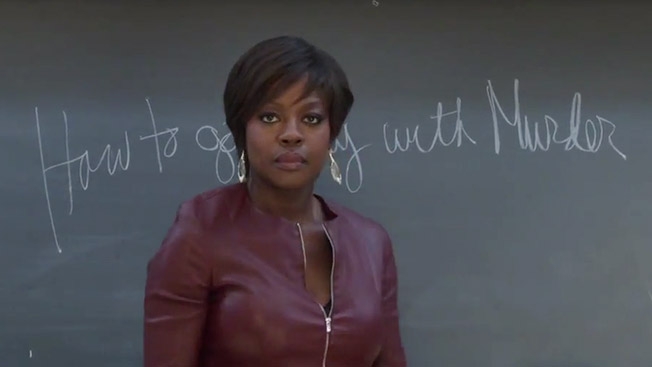 Starring: Viola Davis, Billy Brown, Alfred Enoch, Jack Falahee, Katie Findlay, Aja Naomi King, Matt McGorry, Karla Souza, Charlie Weber, Liza Weil
Created by Peter Nowalk
Written by Peter Nowalk, Directed by Michael Offer
THE PREMISE:
How to Get Away with Murder
is a twisty crime/legal thriller centered around tough law professor and laywer Annelise Keating (Viola Davis). She teaches a course she nicknames "How to Get Away with Murder" and chooses five lucky proteges to join her team, also consisting of Frank Delfino and Bonnie Winterbottom (Charlie Weber and Liza Weil). The five proteges are underdog Wes (Alfred Enoch), teacher's pet Michaela (Aja Naomi King), driven and gay Connor (Jack Falahee), mysterious Laurel (Karla Souza), and confident Asher (Matt McGorry). Rounding out the main cast is a detective with a connection to Keating, Nate Lahey (Billy Brown). Oh and by the way, at least four of the five proteges are featured in a flash forward that implies they actually are involved in a murder a few months later.
THE GOOD:
This show is all about Viola Davis. Channeling Kerry Washington from
Scandal
, Davis absolutely commands every scene she's in with a supreme sense of confidence yet a feeling she could unravel at any moment. It's an interesting mix of a character but it's something Washington does as well. When she's working, she's as strong as can be, yet we see glimpses of a less than perfect personal life. The rest of the cast is solid too, particularly Alfred Enoch, who already seems like someone to root for (but also probably someone with some problems). The use of a law school is a very interesting way to present a soapy thriller like this show. It may not quite have the high stakes DC has, but it's still an interesting way to shape a story. I love the flash-forward idea for a show like this. I just hope it's as satisfying as the ones in
Damages
and not a disappointment like
Revenge
.
THE BAD:
After reading about this show, I must say I was expecting it to be a little bit more crazy and twisty than it was. It wasn't really until the final seconds of the first episode that I thought "OK this could be a fun ride." Before that, it seemed like it was trying to force twisty turns and they weren't landing.
Scandal
let it happen organically as the show started pretty tame, but this show seemed to be trying to get to
Scandal
level right away and it just didn't happen. As much as I love the flash-forward concept, it makes me nervous because it has to mean the writers have a very clear sense of where things are going regardless of what critics or fans say. As I alluded to in the good section,
Damages
did this with excellence year after year while
Revenge
never seemed to have an endgame in mind and the seemingly stunning flash-forward ended up being a bait and switch.
BOTTOM LINE:
I was feeling throughout most of the episode that this show was a disappointment but there are two reasons I'm going to stick with it for awhile. First and foremost is Viola Davis. I thought she was spectacular in the pilot and she seems like a very interesting character. Secondly, the final minute of the pilot made me hopeful that this show can be the twisty, crazy thriller it seems to want to be.